International Cell Phone Rentals

Traveling overseas? TravelCell means peace of mind for you and your family. Whether you're traveling for business, leisure or studying abroad, you need the safety and security of an International cell phone or Data device. Rentals in many countries include Free incoming calls, and you will receive your device prior to departure. We tailor our global cell phone rentals to your needs, ensuring a hassle-free, affordable rental.
Check out our exciting new offers and products including, Blackberry, USB Modems, MIFI Devices, iPhones, iPhone SIMS, iPad solutions and GPS for the entire world. Please contact us for special groups/missions pricing. TravelCell has been providing excellent rates and service for more than 18 years!
Get unlimited free incoming calls when you travel to one of these countries and many more.
Is your destination not in the list?
Rent a phone
for over
200 countries
worldwide.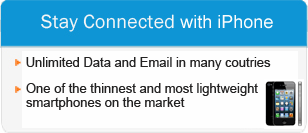 Register your company with TravelCell and enjoy all the benefits of a global cell phone rental at discounted rates.
• Overnight shipping available
• Stock TravelCell phones at your office
• Full accessory kit

Traveling with a group? TravelCell offers discount rates and special services for groups.
• Latest cellular and data equipment
• Dedicated specialist
• Worldwide support