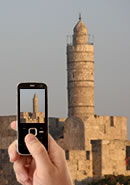 Lets go to Israel! And let TravelCell, the leader in cell phone and data rentals for Israel, provide you with the safety and security of a cell phone. Whether you are traveling to Israel on business or vacation, our products save you money and hassle.
Our choice of plans means that whether you are visiting Israel for short or long term, we've got the perfect plan for you. All with Free Incoming Calls
New! For frequent travelers to Israel, you can own your own phone, saving you money each time you travel.
For connected travelers, TravelCell offers a complete selection of Mobile Internet devices and sim cards for web browsing and email.This includes: BlackBerry, iPhone, iPad2, Android, USB Laptop Datacard and MIFI devices, all with unlimited email & internet. We also rent GPS devices for easy navigation with spoken turn-by-turn directions in English. You'll never get lost again!
Thank you for renting with TravelCell.