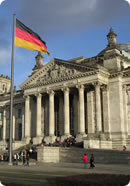 Get ready to be surprised by Germany, by its vibrant cities, enchanting medieval villages, and picturesque countryside. Take a step back in time to the Middle Ages and check out castles and palaces steeped in legend.
TravelCell is the leader in cell phone rentals for Germany. Whether you are traveling to Germany on business or vacation, let us provide you with the safety and security of a cell phone.
New! For frequent travelers to Germany, you can own your own phone, saving you money each time you travel.