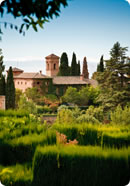 Famous for bullfights, flamenco dancers and sun-drenched beaches, Spain is also a lot more. Medieval castles, rolling green hills, Roman ruins and gothic cathedrals reflects the glorious history of Spain.
TravelCell is the leader in cell phone rentals for Spain. Whether you are traveling to Spain on business or vacation, let us provide you with the safety and security of a cell phone.
New! For frequent travelers to Spain, you can own your own phone, saving you money each time you travel.