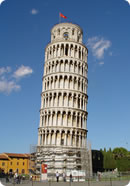 Home to the Colosseum and the birthplace of the Renaissance, Italy is one of the worlds most popular tourist destinations. From the romantic cafes of Venice to the ancient monuments of Rome, a trip to Italy is sure to exhilarate.
TravelCell is the leader in cell phone rentals for Italy. Whether you are traveling to Italy on business or vacation, let us provide you with the safety and security of a cell phone.
New! For frequent travelers to Italy, you can own your own phone, saving you money each time you travel.