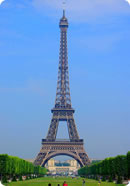 Of course its the most visited country in the world. With incredible mountain scenery, good food, fine wine, and of course the city of light, Paris, France will inspire you in a variety of ways.
TravelCell is the leader in cell phone rentals for France. Whether you are traveling to France on business or vacation, let us provide you with the safety and security of a cell phone.
New! For frequent travelers to France, you can own your own phone, saving you money each time you travel.