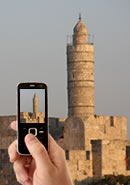 Studying in Israel is a great experience, and TravelCell, the leader in student cell phone and data rentals for Israel, makes it easy for you to share that experience with your loved ones back home. Stay in touch with family and friends the safe and smart way, with a cell phone rental from TravelCell.
Our choice of plans means that whether you just want a phone in case of an emergency, or you plan to talk your friends' ears off, we've got the perfect plan for you. Our plans range from Free rental with free incoming, to our unlimited everything that allows you to talk and text as much as you want! We also have Text plans that can be added to any voice plan, see order page for info.
For connected students, TravelCell offers BlackBerry, iPhone, iPad2, Android, USB Laptop Datacard and MIFI devices, all with unlimited email & internet. We also rent GPS devices for easy navigation with spoken turn-by-turn directions in English. You'll never get lost again! We rent sim cards for all data devices. Ensure the device is GSM and unlocked. All student plans are minimum 3 months rental.